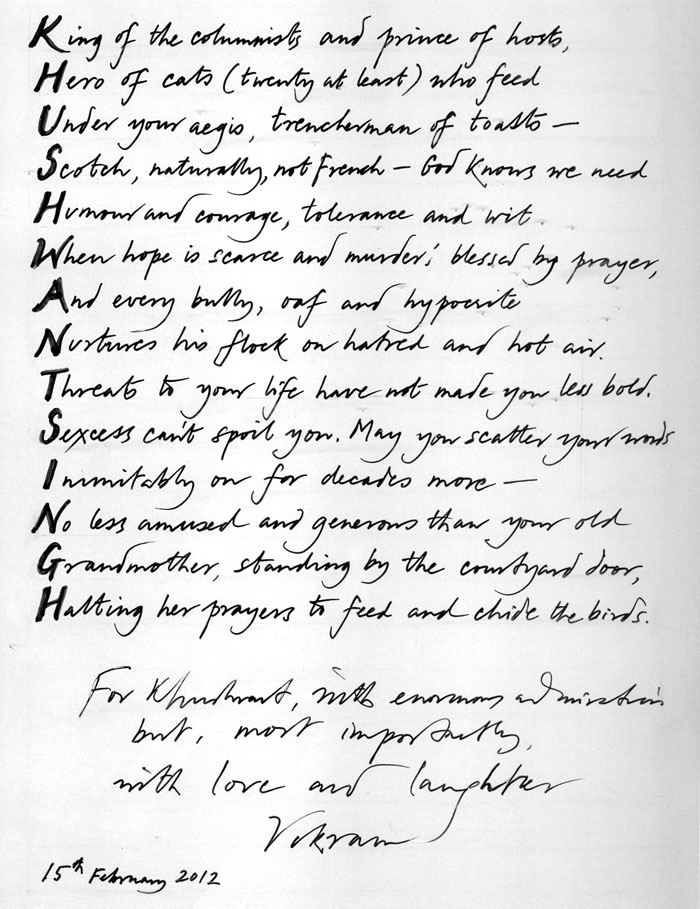 Not a Nice Man to Know
Acid-tongued mischief-maker,
spotlight stealer, story-stalker,
salt-in-the-wound piss-taker,
punchline-grabbing headline hogger,
not nice.
Not a nice man to know.
Spit-in-the-eye straight-talker, shaker-
upper, elbow-in-the-ribs ego-breaker,
bawdy, shameless gossip-monger,
Whisky-guzzling ghazal-lover,
not nice.
Of all the Sikhs he was Sikher
pricker of pride, poker and pecker
away at the accepted order,
sparing neither man nor God,
not nice at all.
Not a nice man to know.
Half his heart in Lahore, half in Amritsar,
one foot in Delhi, one in the gutter,
son of a gun and Sir Sobha Singh,
malice towards one and all.
If you're not expected,
don't ring his bell.
If you expect to be respected
go to hell.
Not a nice man to know, I know
but I wish that I had known him longer
and I wish there were more like him
in the world, not nice to know but they don't
grow on trees, people like him, so
it's worth remembering Khushwant Singh.
Not nice, but he took us all under his wing,
the young, the outspoken, the runaways,
the rebels and poets, the broken things,
and this is why we gather to sing
of him, while he is laughing
up there in the place he didn't believe in,
drinking a peg – or three – with the Boss
who's still not the boss of him.
So here's to the man who we know
is not nice to know but we want
to know and go on knowing:
Khushwant Khushwant Khushwant Singh.
by Imtiaz Dharker
"I am an agnostic. I take pride in my Sikh identity, but I have no time for religion. I believe, instead, in humanity, truth, ahimsa and hard work. My creed is best expressed in Leigh Hunt's 'Abou Ben Adhem' and Kipling's 'If'. These poems are my contribution to this festival which I am too old to attend. Take them with you and live by them."
– Khushwant Singh
Abou Ben Adhem
Abou Ben Adhem (may his tribe increase!)
Awoke one night from a deep dream of peace,
And saw, within the moonlight in his room,
Making it rich, and like a lily in bloom,
An angel writing in a book of gold:—
Exceeding peace had made Ben Adhem bold,
And to the presence in the room he said,
"What writest thou?"—The vision raised its head,
And with a look made of all sweet accord,
Answered, "The names of those who love the Lord."
"And is mine one?" said Abou. "Nay, not so,"
Replied the angel. Abou spoke more low,
But cheerly still; and said, "I pray thee, then,
Write me as one that loves his fellow men."
The angel wrote, and vanished. The next night
It came again with a great wakening light,
And showed the names whom love of God had blest,
And lo! Ben Adhem's name led all the rest.
– James Henry Leigh Hunt
——————-
If
If you can keep your head when all about you
Are losing theirs and blaming it on you,
If you can trust yourself when all men doubt you,
But make allowance for their doubting too;
If you can wait and not be tired by waiting,
Or being lied about, don't deal in lies,
Or being hated, don't give way to hating,
And yet don't look too good, nor talk too wise:
If you can dream—and not make dreams your master;
If you can think—and not make thoughts your aim;
If you can meet with Triumph and Disaster
And treat those two impostors just the same;
If you can bear to hear the truth you've spoken
Twisted by knaves to make a trap for fools,
Or watch the things you gave your life to, broken,
And stoop and build 'em up with worn-out tools:
If you can make one heap of all your winnings
And risk it on one turn of pitch-and-toss,
And lose, and start again at your beginnings
And never breathe a word about your loss;
If you can force your heart and nerve and sinew
To serve your turn long after they are gone,
And so hold on when there is nothing in you
Except the Will which says to them: 'Hold on!'
If you can talk with crowds and keep your virtue,
Or walk with Kings—nor lose the common touch,
If neither foes nor loving friends can hurt you,
If all men count with you, but none too much;
If you can fill the unforgiving minute
With sixty seconds' worth of distance run,
Yours is the Earth and everything that's in it,
And—which is more—you'll be a Man, my son!
— Rudyard Kipling
Pickled In Rum
The horse and the mule live for 30 years,
And know nothing of wines and beer;
The goat and sheep at 20 die,
And never get a taste of Scotch and rye.
The cow drinks water by the tonne
And at 18 is mostly done
Without the aid of rum and gin.
The cat in milk and water soaks,
And then in 12 short years it croaks.
The modest, sober, bone-dry hen
Lays eggs for others, then dies at 10.
All animals are strictly dry,
They sinless live and swiftly die.
But sinful, ginful, rum-soaked men
Survive for three score years and ten,
And some of them, though very few,
Stay pickled till they're 92.
Khushwant Singh , a member of the Delhi Gymkhana Club at 92 years,
wrote the attached poem for the DG Club newsletter!